When you spend your time travelling the world in search of the finest coffees, the people you meet are invaluable. From family farmers to quality consultants, developing meaningful relationships is critical to effectively navigating the complexities of global trade. Without a network of experts, each with their own areas of interest and local connections, no lone coffee lover could expect to do much better than throwing a dart at a map and hoping for the best.
In her travels, our globe-trotting Director of Coffee, Geneviève, has learned this lesson time and again. As many countries as you visit, you'll never know a place's coffee quite like a local. So, when Gen set out to find a new Guatemalan coffee for Roasting Plant's single-origin lineup, she knew there was no one better to ask for help than her old friend, Eduardo Ambrocio.
A former quality inspector at Anacafé, the National Coffee Association of Guatemala, Eduardo has a well-earned reputation for passion, knowledge, and reliability. After leaving Anacafé, Eduardo—alongside his wife, Lusia, and brother, Edwin—founded Prisma Coffee Origins with the goal of sourcing and exporting the best of what Guatemalan producers have to offer. Moreover, Eduardo is highly sought-after by farms and cooperatives looking to assess and improve their quality and, in some cases, break onto the world stage.
"The best comes to him before anybody," according to Gen, who visited Eduardo in Guatemala earlier this year to taste a selection of regional coffees. Although lots differ from year to year, Gen had Eduardo assemble forty coffee samples that had just the right tasting profile: notes of chocolate, vibrant citrus, and a smooth, buttery body. Above all, Gen asked Eduardo to pull exclusively from woman-produced lots as part of our ongoing effort to promote economic opportunity and transparency for women in coffee production.
Presented with an array of forty cups from various woman-produced lots, Gen was prepared for extensive deliberations, tasting and retasting, discussing and contemplating—the kinds of considerations a developed palate comes to expect. Instead, however, by sheer coincidence, the very first cup struck her, and the dozens of other cups laid out before her, each meticulously selected and prepared, paled in comparison. Even after taking in the selection in its entirety, Gen knew that this coffee, sourced from eight women of Cooperativa El Sendero, known collectively as Mujeres de Café, had to join Roasting Plant's lineup. 
Founded in 2018, Cooperativa El Sendero has managed to overcome many of the early hurdles of coffee production. As a relatively new cooperative, El Sendero's members have had to rely heavily on one another, storing crops in whatever space a neighbor had available and learning everything they could from each other. Moreover, given the fickle nature of agricultural production and economic infrastructure in the Global South, many men have left Guatemala hoping to find work in the US and elsewhere to support themselves and their families. In their place, women like the Mujeres de Café have taken the reins, hoping to lay groundworks in their local communities for education and development.
Despite the difficulties, El Sendero, and particularly these eight women, have produced an exceptional coffee—one that, according to Gen, stands above any other Guatemalan coffee from this year. It's an admirable accomplishment, and we can only imagine what they'll be able to achieve with the resources we, alongside Eduardo and his family, are helping to provide.
As excited as we are to have found such a promising group of woman producers, the relationship goes both ways. We want to build connections, provide resources, and encourage the growth and improvement we believe Cooperativa El Sendero is capable of. We know that growing coffee is challenging, that many producers are excluded from the infrastructure needed to access quality means of production, education, and healthcare. In partnering with Prisma Coffee Origins and working with Cooperativa El Sendero, we hope to provide the resources needed for the people who make great coffee to continue to make great coffee, while also setting a precedent for transparent, ethical, and equitable practices at every level of the supply chain.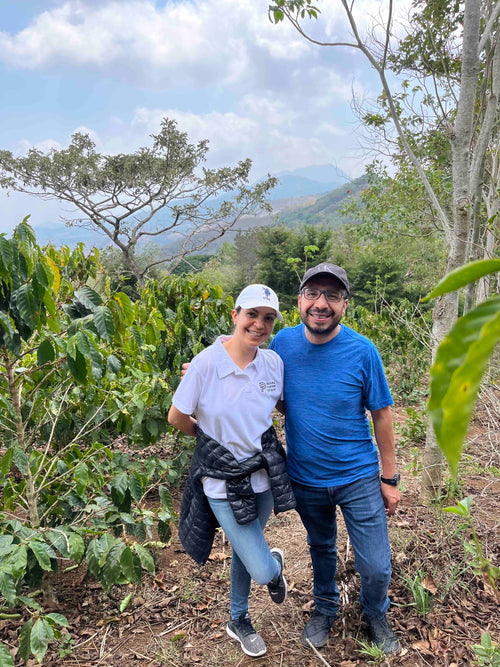 Building Coffee Community by Andrew Riordan is the first article in a series of journal presentations by Roasting Plant Coffee to better familiarize you with our partner farms and farmers and the relationships we cultivate with them.